Current and Future Trends in Nonparametrics
October 11-12, 2007
University of South Carolina, Columbia, SC
Welcome to the home page of the conference on Current and Future Trends in Nonparametrics,
hosted by University of South Carolina in Columbia, SC.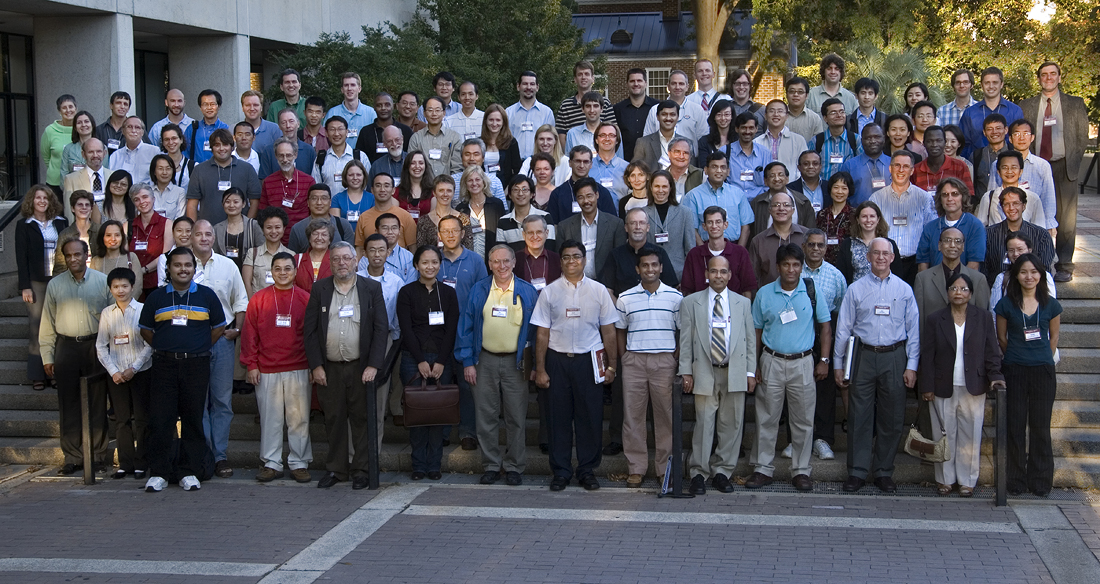 The official picture of (most) conference attendees!
Conference Timetable (See conference program below for more specific details.)
Plenary Speakers:

Pranab K. Sen, University of North Carolina-Chapel Hill, Department of Biostatistics
Topic: Nonparametrics: Perspectives and the Task Ahead (abstract)
Jianqing Fan, Princeton University, Department of Operations Research & Financial Engineering
Topic: Semiparametric Methods for Longitudinal Data (abstract)
Jana Jureckova, Charles University, Jaroslav Hájek Center for Theoretical and Applied Statistics and Department of Statistics
Topic: Rank-based Methods in Regression (abstract)
Raymond Carroll, Texas A&M University, Department of Statistics
Topic: Semiparametric Analysis of Case-Control Studies, With Applications to Gene-Environment Interactions (abstract)
Slides from the Plenary and Invited-Session Talks
If your slides are not on this page, then we do not have the slides.
Please email your talk to Edsel Peña so that it may be archived on the web page.
Copies of Posters
If your poster is not on this page and you have an electronic version of it,
please email the file to Edsel Peña and we will archive it on the web page.
Some Photos from the Conference (on Arne Bathke's web site)
Final Conference Program (pdf file)
Final Book of Abstracts (pdf file)
List of Invited Speakers and Abstracts
List of Poster Presentations and Abstracts
Please take a short survey on teaching nonparametrics:
Conference participants are encouraged to take Paul Kvam's poll about selecting topics for a nonparametric statistics course.
This is related to the talk Dr. Kvam will give at the conference.
NSF-sponsored Travel Support:

The conference has obtained funds from the National Science Foundation to provide travel support to selected junior researchers (graduate students, and researchers within 5 years of receiving their Ph.D. degree). Preference for travel support will be given to investigators who agree to present a poster related to nonparametric statistics at the conference. Selection of awardees will be based on the the recommendations of the investigator's research advisor, the proposed research to be presented, and the investigator's vita.
Specific details about applying for travel support can be found here: Applying for Travel Support.
Support for Attendees from NISS-affiliated Institutions:
Since this conference is co-sponsored by the National Institute of Statistical Sciences (NISS), institutions that are NISS Affiliates may use funds from their Affiliates Reimbursement Account (part of the annual affiliate fee) to reimburse personnel who attend this conference. The reimbursement may include transportation, lodging, and (on a per diem basis) meals. Please see the NISS Reimbursement Account guidelines for more details. A list of NISS Affiliates is maintained on the NISS Affiliated Organizations page.
Registration for the Conference (online or mail-in registration available)
Information about Ground Transportation

Abstract Submission Information for Invited Speakers and Poster Presenters
NOTE: There is a deadline of September 14 to submit abstracts for a Poster Presentation.
Information for Poster Presenters
Email and Wireless Access: The entire floor where the conference talks will be held is set up for wireless internet access,
and there is a room on that floor set up with 3 computers that can be used by participants to check e-mail at no charge.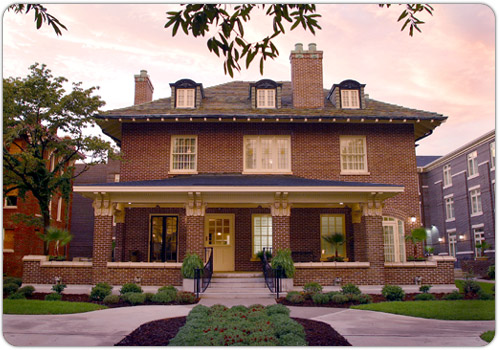 The Inn at USC, the main hotel for the conference.

Note: If you contact the Inn at USC regarding lodging, please mention that you are attending the conference on Current and Future Trends in Nonparametrics, since they have certain rooms blocked for conference reservations.

If the Inn at USC is unavailable, alternate housing may be found at:
1. Rose Hall Bed & Breakfast, 1/2 block to the meetings, 866-771-2288
2. Clarion Townhouse, 3 blocks to the meetings, 803-771-8711
3. Claussen's Inn, 3 blocks to the meetings, 803-765-0440
4. Marriott Courtyard, 5 blocks to meetings (630 Assembly St.), 803-799-7800
5. Hilton Columbia Center, 8 blocks to meetings (in the Vista), 803-744-7800


UPDATE (9/14/2007): The Inn at USC and the Clarion Townhouse have no vacancies for Friday night, October 12.
The Marriott Courtyard and the Hilton still have plenty of rooms for all three nights.

Miscellaneous South Carolina Information:


About the University of South Carolina (Local Map to USC Campus, Overview Map of USC Campus, For Visitors)
Weather in Columbia, SC (courtesy of yahoo.com)

Organizing Committee:
Edsel Peña
Don Edwards
David Hitchcock
Joshua Tebbs
Xianzheng Huang


Contact Information for the University of South Carolina statistics department:
Department of Statistics
216 LeConte College
University of South Carolina
Columbia, SC 29208

Phone (Main Office): (803) 777-7800
Fax: (803) 777-4048
USC Statistics Department Home Page